Price Per Piece

Quantity
Retail (MSRP)

Wholesale
1 Brush

$12.99
$11.69
With its durable bristles and high-quality wooden handle, the Colourlock Leather Cleaning Brush is great for removing dirt and stains effectively and gently from leather car seats, sofas, chairs, clothing and handbags. It can also be used to clean Alcantara and other Textile materials as long as it is used gently.
Customer Reviews
Write a Review
Ask a Question
09/13/2021
Maria N.

United States
Whoo!
Great brush. Didn't shed bristles on it while using it the first time. Effective brush.
12/07/2020
William

United States
Amazing results with one flaw
This brush worked amazing with my Nissan leather seats. The seats are about ten years old and were very greasy…. Until I foud Colourlocks brush and mild cleaner which just brought them back to life and gave them this matte brand new finish. I even used this brush on the seats with P&S Xpress Interior Cleaner and it worked awesome. This brush is just magical and really revives and maintains leather seats. The size fit my hands perfectly but it also isn't too big so it allows you to get into tight creases or areas where cushion meets stitching. The only downside which really upset me however was the wooden construction. After one use I can already see decently sized cracks in the handle. I also stored it face down and made sure to dry it after use but it still ended up cracking. Don't get me wrong this brush will still function and work great, but this makes me wonder how long the brush will last. I would love to see these brushes with the construction quality of Detail Factory brushes.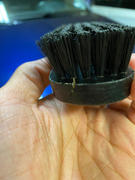 12/06/2020
Anonymous

United States
Perfect for my hands
Good brush. Not too big not too small. I'm expecting more from my detail products than working well. I also want them to work well for me. That includes the comfort of the product and ease of use. This brush is in the Goldilocks zone.