The Last Cut Compounding Glaze
The Last Cut is designed by a detailer for detailers and body shop users. Versatility is key and this product gives its user full control over aggression/finishing ability based on pad choice. Its main purpose is to remove scratches and swirls while leaving a glossy finish on light or dark colored painted/clear-coated surfaces. On harder paints, its one step capabilities can be explored. Best results are achieved using a Dual Action or Rotary Polisher. This Silicone free formula contains no fillers and is body shop safe.
Customer Reviews
Write a Review
Ask a Question
02/12/2021
Doug P.

United States
THE LAST CUT COMPOUNDING GLAZE
Easy to apply and remove. Excellent product!
09/22/2020
Anonymous

United States
Helps to remove hard water spots!
Did a good job at removing hard water spots. Used by hand and a sponge the first time but its more effective with a machine.
09/20/2020
Jorge

United States
Hard water spots? Look no further!
Bought a truck that had hard water spots on the INSIDE of the windshield. Top: Inside windshield completely de-greased and cleaned with streak-free glass cleaner. Still had hard water spots. Tried distilled white vinegar (6%) mixed with equal parts water. Still marks. Bottom: Found this product through their YouTube channel and after some elbow grease, marks are gone!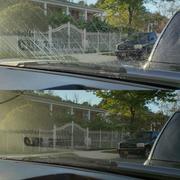 08/27/2020
Tomas M.

United States
Great product on
On time & quality work
07/14/2020
JD W.

United States
Removed every hard water stain on my windows with ease!
I stumbled upon this product watching one of your YouTube videos. At first I was totally skeptical. It looked too easy. But then I bit the bullet and ordered it. Totally worth every penny! All my windows look like new! Love this product. Highly recommend it to anyone. Even us amateur detailers!